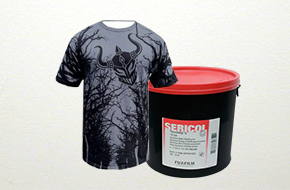 Sericol Water-Based Texcharge TC
Application :
- Texcharge TC is a discharge ink system which is simple and easy to use and produces prints of unrivaled brightness and softness of handle on suitability dyed dark fabrics.
Specification :
- Discharge system for use on suitably dyed fabrics
- Super soft and bright colours.
- Extremely good wet-on-wet printability and screen stability.
- Low temerature curing
- Soft handle
- Extremely tough, stretchable film
- High wash resistance

"Your Partner in UV Technology."