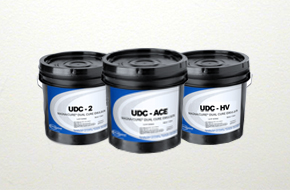 Magna/Cure® Direct Emulsion
Magna/Cure® Direct Emulsion are photopolymer/ diazo based, dual cure photostencil systems which provide remarkable image quality and exceptionally durable stencils. Premium emulsions for use with UV, plastisol, water-based and solvent-based inks.

UDC-2
UDC-2 provides the perfect combination of price and perfomance. With superrior exposure speed, latitude and moderate water resistance, UDC-2 is the ideal selection for printers in nearly every category.

UDC-ACE
Universal emulsion offering excellent resistance in any imaging application. UDC-ACE was designed to work as traditional or automatic coating emulsion.

UDC-HV
This new high viscosity emulsion allows for easy coating on low or high mes counts while offering the resistance and durability of a dual cure emulsion. UDC-HV is the ultimate emulsion when it comes to quality and value.
UDC-2
- Excellent definition and line edge
- Highest build-up proud of mesh with low Rz values
- Blue color offers excellent contrast for easy registration
- Solvent, UV and plastisol ink resistant
- Ideal for all mesh counts
- Medium viscosity

UDC-ACE
- Excellenct ink resistance
- Excellent durability and heat and humidity resistance
- Excellent imaging
- Dyed only
- Water, solvent, UV and plastisol ink resistant
- Ideal for automatic coaters
- High viscosity high solids

UDC-HV
- Fast exposing with excellent image quality
- Hard, durable stencils, resistant to the widest range of inks and additives
- Superior mesh adhision
- Clear and dyed
- Solvent, UV and plastisol ink resistant
- High viscosity allows for easy coationg on high or low mesh counts
"Your Partner in UV Technology."